It's no secret that the human attention span has been consistently declining over the course of the last decades, dropping to around 8-9 seconds in 2019.
More and more online visitors expect to be presented with the most relevant content, as quickly as possible. Especially when it comes to such an important intent signal as a search action.
It is your job as an online store owner to provide the visitors of the online store with the most relevant search experience, tailored to both their specific needs and to the particularities of your eCommerce vertical.
A highly configurable and flexible Predictive Search box is an essential tool for every eCommerce operation.
Continue reading to learn how Visely Search feature set will help you tackle this problem.
List view / Split view
We've built the UI of the Predictive Search box to be highly customizable when it comes to look and feel. It is your website and it is your design, so our components should be able to fit right in.
The box can be customized to present information either in a list view or in a split view, although it is flexible enough for a completely custom solution.
List view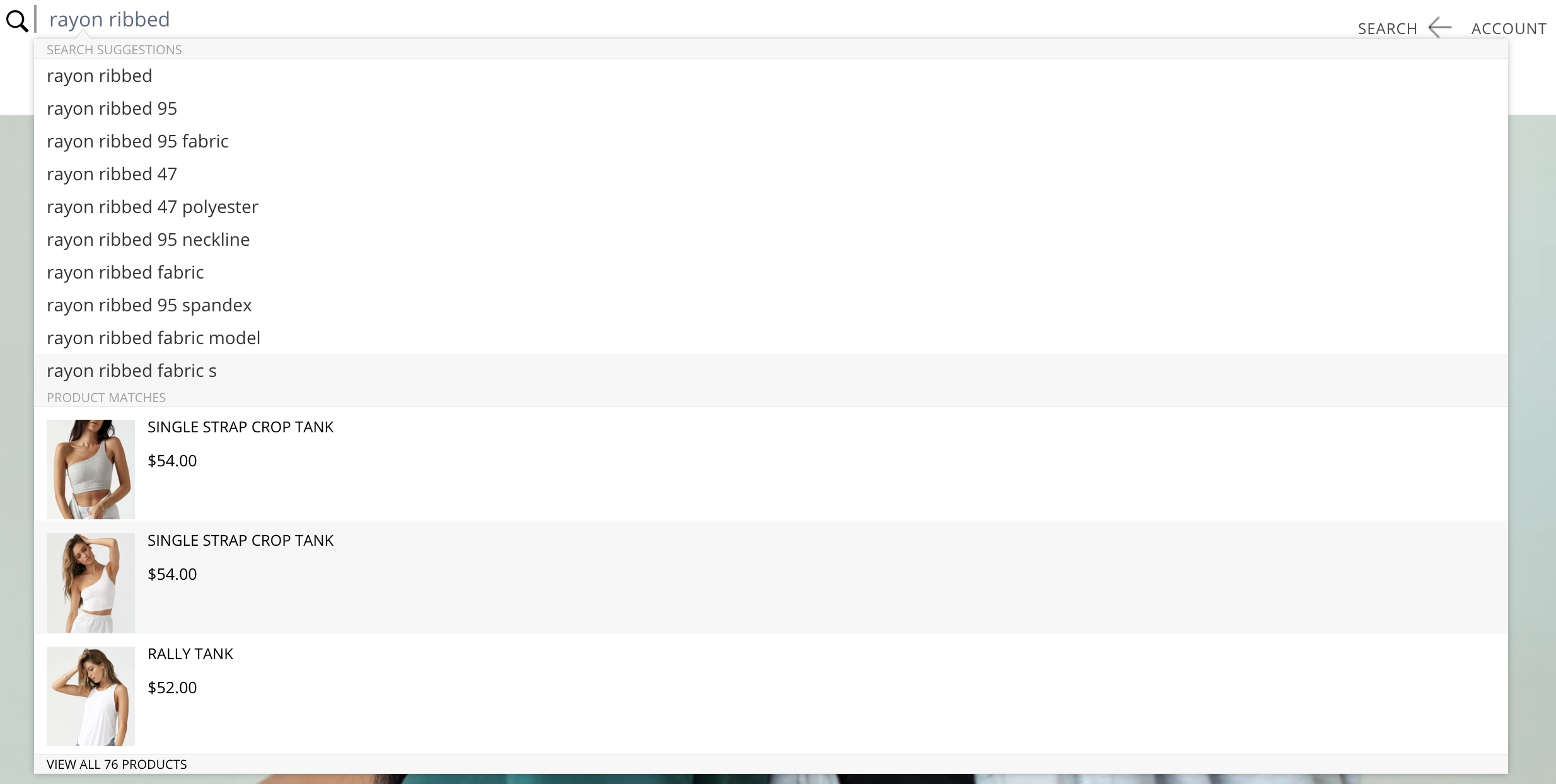 Split view

You can probably guess that the store in the example above uses split view, as it fits the overall header design much better.
Results customizations
Visely Search uses a broad set of product information to be presented in the Predictive Search results, which can be adjusted as needed.
Here is an example of a smart home security store, that present both SKU and Brand of the product in the result, as these are important data points from the catalog of the store.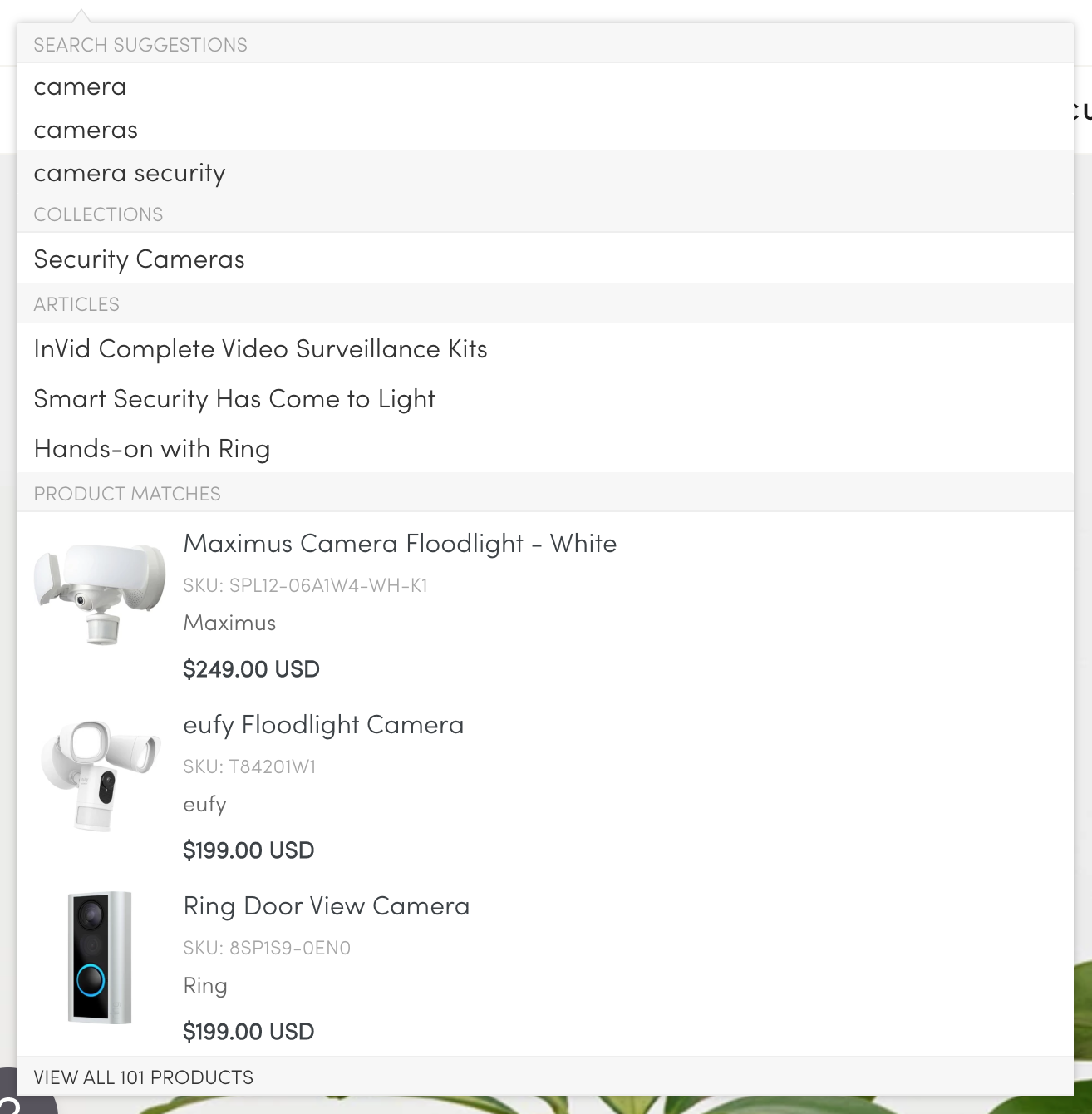 In the next example of an online wine store, customer ratings are prominently featured.
Additionally the Predictive Search results offer shoppers an option to purchase directly from the popup, removing the need to go to a product details page.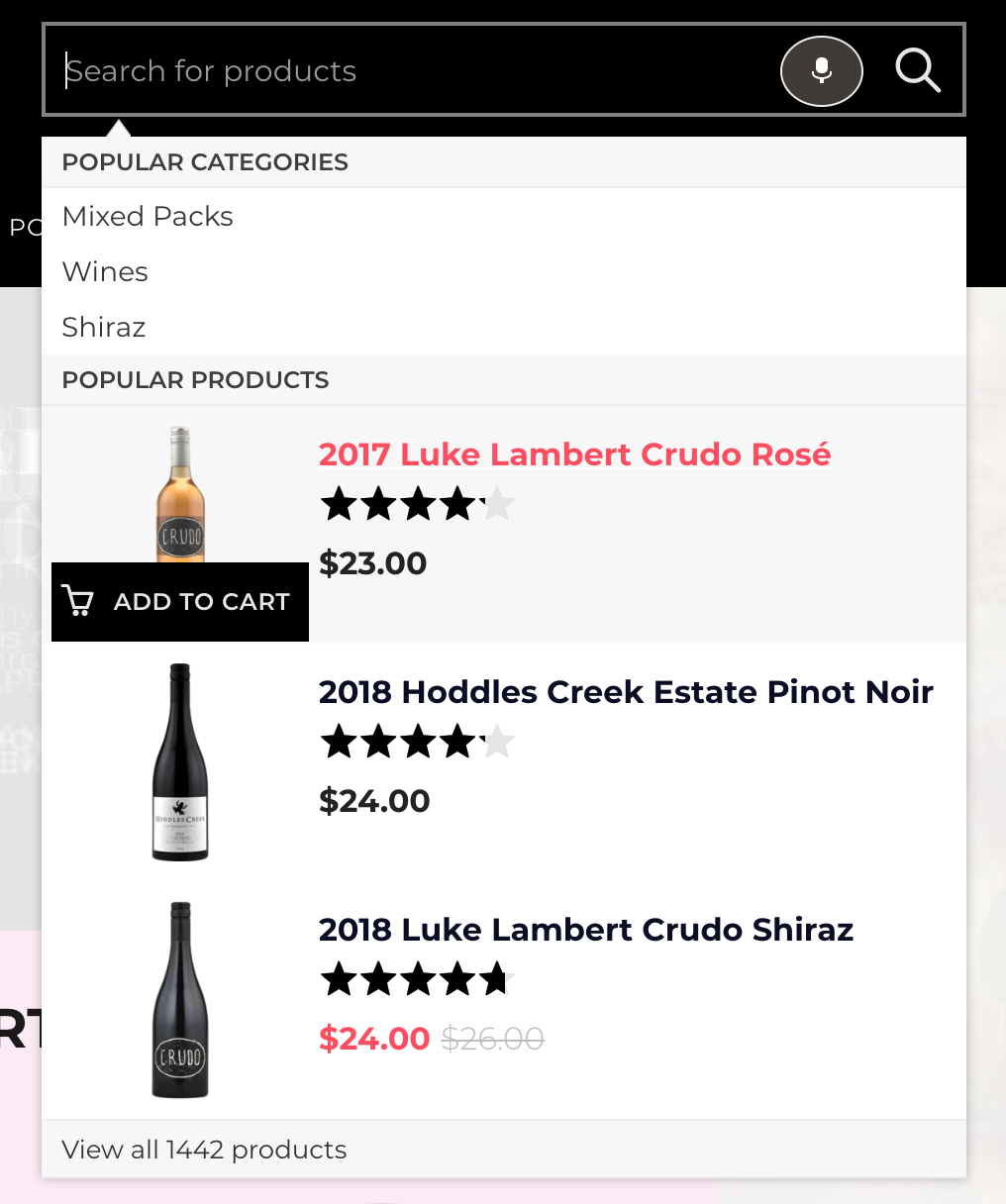 Customizations options for the Predictive Search results for your store are quite extensive, and include tags, meta, categories, brands, etc.
Search History and Recently Viewed
Depending on the store's catalog, the decision to purchase might not be a quick one. Your customers could be making multiple visits to the site before committing to a purchase.
This is why it is important to offer functionality that connects these different browsing sessions.
Visely Search gives you an ability to present your visitors with their Search history and Recently Viewed products right in the Predictive Search box.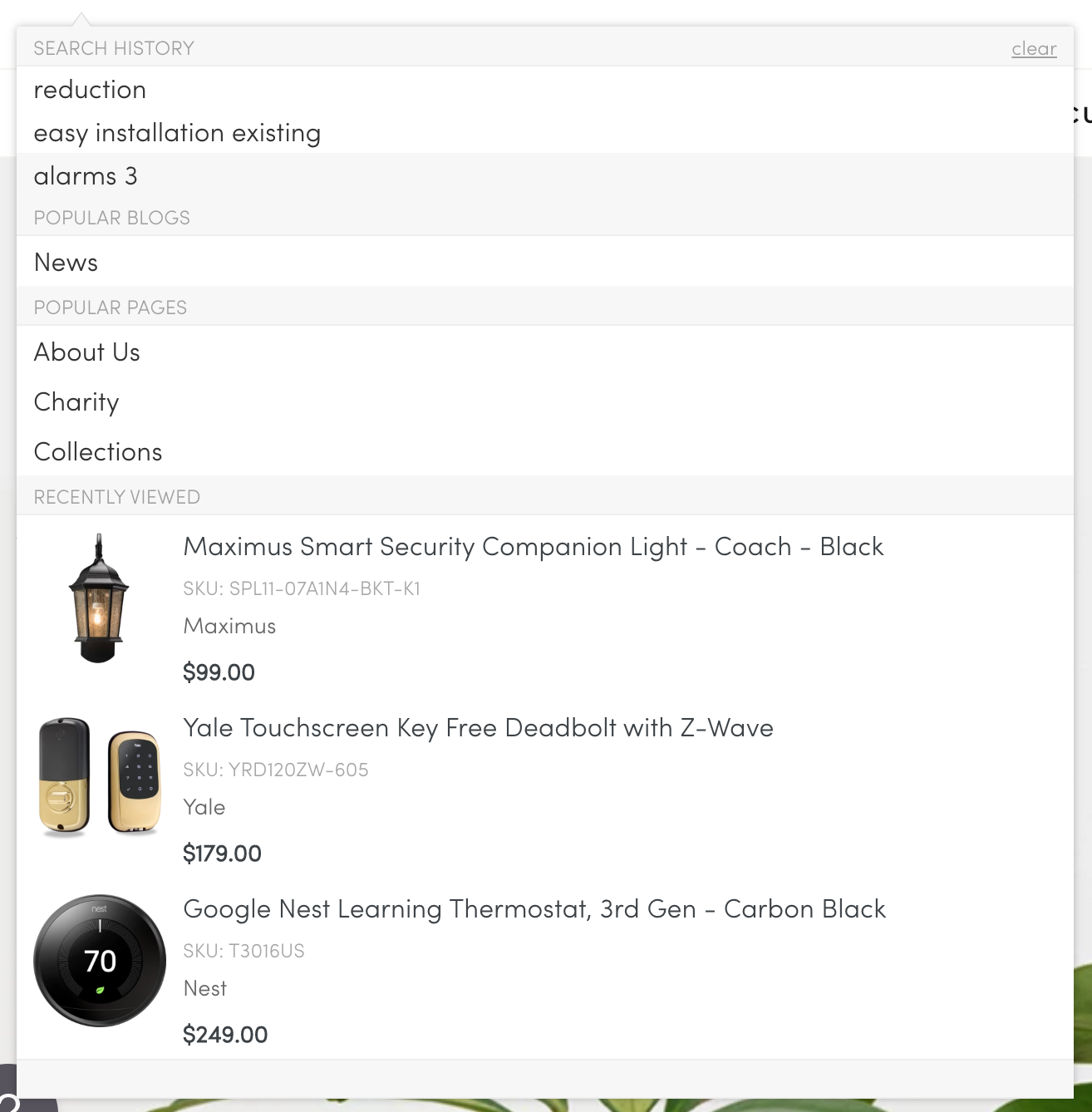 Your store visitors will now be able to see there previous search actions and easily continue from where they left off.
Voice Search
Visely Search successfully uses speech recognition to give visitors an option to search for products and content using voice.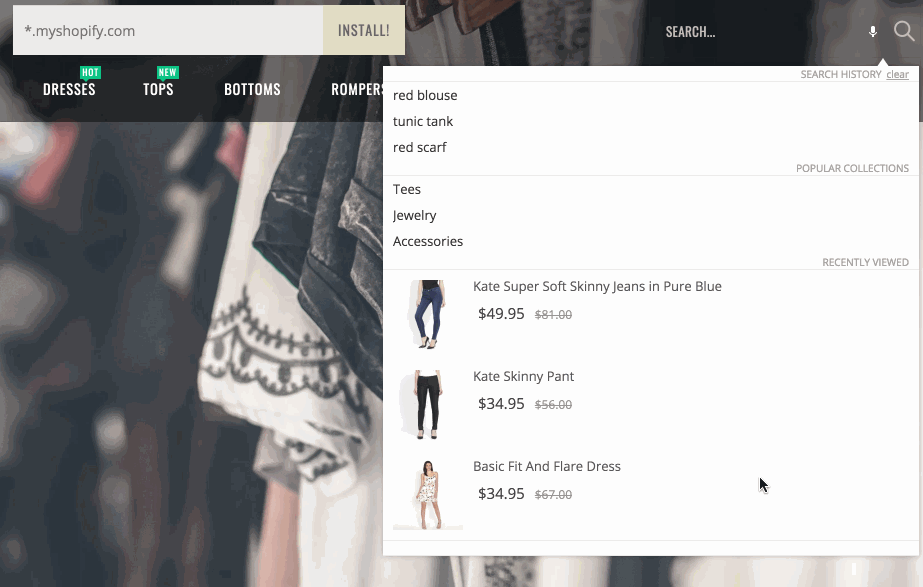 This feature will be particularly useful to shoppers visiting your site on mobile devices.
Inline popup results update
With this feature enabled Predictive Search box turns into a dynamic search results page.
Results will be updated when a shopper uses arrow keys or mouse to select either a search suggestion or a search term from her history.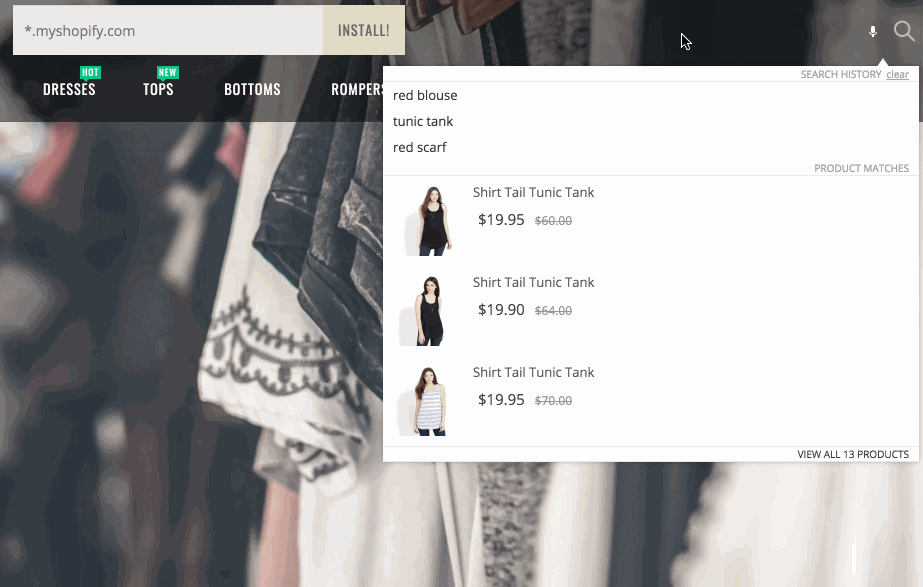 There is no need to navigate to a dedicated search results page, resulting in a quicker search experience for your customers.
Easy management
All of the above features can be easily turned on and off in Visely Search back office, and will be immediately available.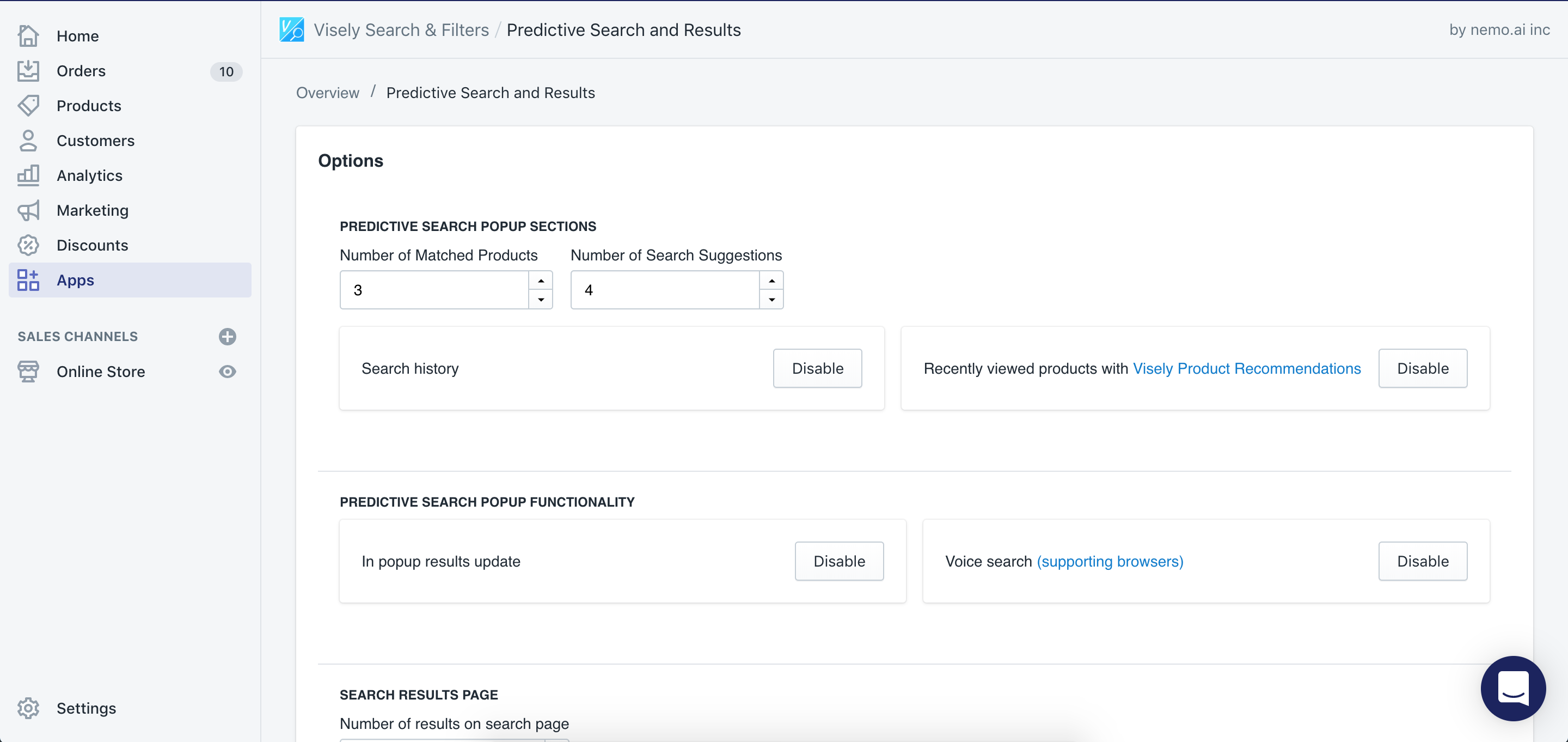 Next Steps
As you can see, Visely Search has multiple features features which allow you, a successful online merchant, to tailor Predictive Search functionality according to the requirements of your business and necessities of your customers.
So why don't you go ahead and Install Visely Search on your Shopify store, or get in touch with us if you are running on a different platform, we'll do our best to help you.